Introduction
World of internet is full of resources and we always fall back on this medium to find our answers. In case of tempered glass screen protector, the internet too is full of resources and information and if you are brand who is selling different types of screen protectors such as 3d curved tempered glass screen protector, privacy tempered glass screen protector, Matte tempered glass screen protector, Anti-blue light tempered glass screen protector etc, then the search becomes much more important for you.
Finding a Smartphone screen protector manufacturer online is a daunting task and takes a lot of your time as you are constantly doing it. During your search process your activities involve- going through different sites through different search engines. Your challenge is to find the right and trusted one. Faulty search process or wrong findings can lead you to various problems, such as poor communication, inaccurate product information, and supply inconsistency, and poor product quality.
So, if you are planning to make it a big in the screen protector business and want constant supply of really good quality products and looking for tempered glass screen manufacturer then this write-up will help you in by revealing some of the best ways to find suppliers and manufactures whom you can trust with quality, price  and delivery time.
Online is like a huge sea, where to find real good suppliers or manufacturers
Before anything else, you should know where to find a variety of manufacturers that you can choose and compare. The two main channels where you can find them are the following:
Think before you start, just organise your thoughts, interests and demands and put them on paper or your laptop tab or even Smartphone you have so that you don't miss out on important points.
B2B Portals
If you are a buyer, then nothing works better than a B2B portal. A B2B portal is a platform that connects factories and buyers with sole purpose of serving the business sector and to provide benefits to both the parties. B2B portals help buyers to compare and purchase physical products from different sellers in one place. But their B2B site's Cost is huge and they will mark up a lot.Some of the top B2B portals are:
Alibaba– Biggest e-commerce company in China.
AliExpress- a China-based online retail service owned by Alibaba, which is also used worldwide.
ThomasNet- Almost same as Alibaba, but focuses on manufacturers from North America.
Global Sources- This is a China-based company using English and Chinese for international transactions.
DHGate – This one hosts independent Chinese exporters and drop-shippers.
Amazon Business- Verified businesses sell their products that come with different features, like discounts and fast delivery options.
———–
Manufactures' Sites
This is another way of locating manufacturers in the internet, Take any search engine like Google or Bing and type the name of manufacturers or keyword related to it, you will find that many manufacturing companies are running their own websites. All the websites hosted and maintained by manufacturing companies will give you a clear idea of what the company is about, which will help you make the perfect decision in choosing the manufacturer you're going to work with. Moreover, working directly with a factory will give you the best profit margin.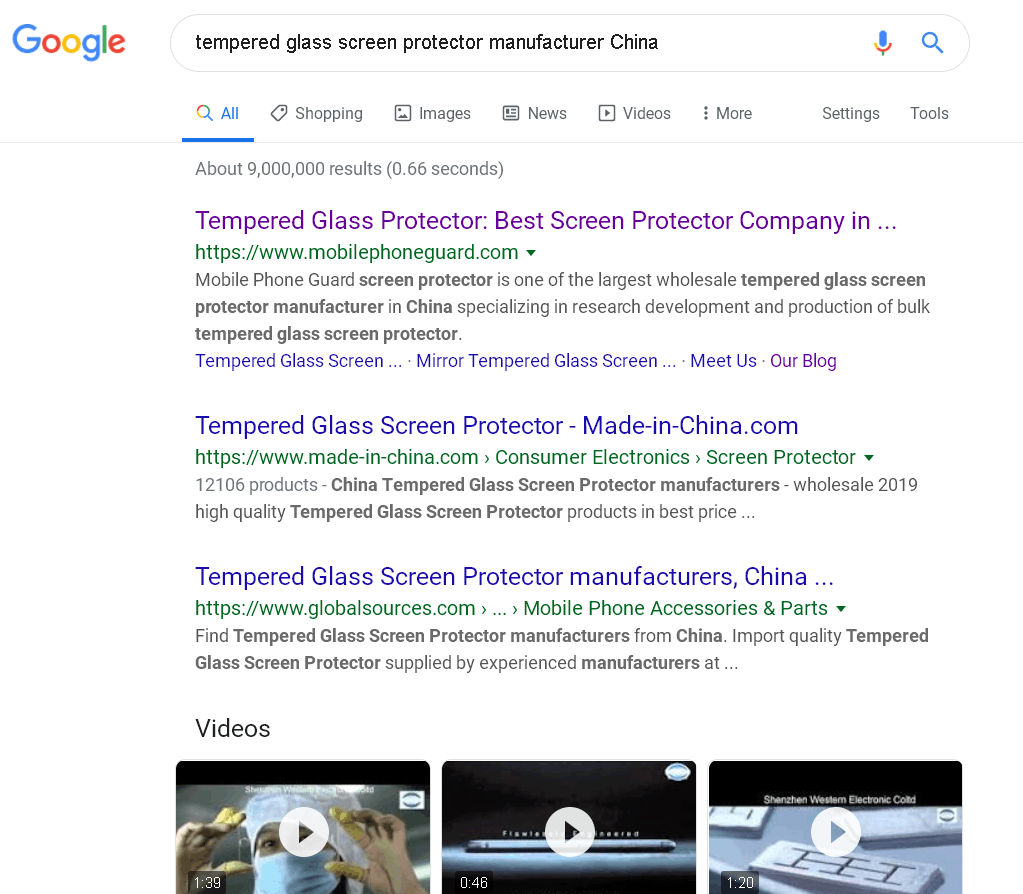 Follow this Step-by-Step Guide on How to Find Trusted Manufactures / Supplier Online
During the search, always start with specific product requirements, the next thing you must do is find top tempered glass screen protector suppliers. In the following guide, we will try to show the ways to find suppliers or manufacturers on the Internet.
Decide Your Product Requirements
You must determine first what you want in your products before you start searching. You have to be specific. One thing you must keep in mind that not everyone is capable of doing everything. You have to be sure that the manufacturer you're interested in can meet your requirements.
Search Using Proper Keywords
Keywords play a major role in finding your needs because search engines' algorithms are based on keywords. So, during your search using keywords like "tempered glass manufacturers," "Chinese tempered glass manufacturers," or "Chinese Tempered glass screen protector wholesalers."  This will help you to locate manufacturers or the factory sites on page two and beyond of the search results.
Keywords like "tempered glass" "9H hardness" etc too can be helpful
Scan Their Product Photos
All the information you gathered from your search needs bit of filtration and this is like your first filter to narrow down the list. After reaching the company's website or their shop on any B2B portal, invest your time to navigate through their product page to know if they can fulfil your demands.
Shortlist Your Tempered Glass Manufacturers
After going through various suppliers, you need to short-list them to save you time in choosing the right one. Some questions that will help you narrow down the list of your suppliers:
Look out for few facts such as –
 Is it a factory or suppliers?
Whom do you prefer to work with? Try to dig into their data provided in their About Us story and their factory location, if their establishing date somehow does not match with the experience, then it's highly likely a fake factory .Nowadays, lots of trading companies give their data on B2B portals like  Alibaba. These B2B portals charges higher fees to the factories so the price you see on the B2B sites are not actual price that you can get if you buy directly from the factory. Because producers add the fees into the final price while enlisting their products.
Do they have top-end machines?
It's essential that manufacturers have high-tech, top end machines that can produce top-quality products. Always visit their manufacturing page and see their manufacturing process. This should give you some ideas of their manufacturing capability.
Duration of their business?
Always check the number of years that the company is having as an experience in this sector. Experience does matter a lot as they have withered all the changes and challenges. Also, they are usually financially stable and have enough experience in meeting the different requirements of clients.
What are their promises on quality assurance?
The more stages the company makes for the quality assurance of their products, the lesser the chance for their products to be defective. Some manufacturers only perform quality tests at the end of the production process. However, quality control should be present in every stages of manufacturing.
From where they source their materials?
If your manufacturer doesn't create all the parts needed for your product, they are actually acquiring it from different sources. It's a must to know where they are getting it from and how reliable those sources are.  In order to make sure that all components are of top quality, always ask for a list from supplier or producers about the materials used in your products and the factories that make them.
How many transactions have they completed successfully?

The more transactions they've made successfully, the better.
Do you know anyone who has experience transacting with the company? Check out if there are online reviews available or not as this will help you to make proper decision. If the good reviews are enough to beat the bad ones then it's worth for a try.
Are they a verified manufacturer?
Ask them to provide any form of certificate for proof? A reliable manufacturer should be able to present you with any form of proof to show that they are an approved company. Check the authenticity status on B2B portals too.
Connect with Your Shortlisted Suppliers
Once you have decided your top picks, it's time that you talk to them directly. Here's what you need to do so you'll have a successful negotiation with the company:
List all questions that you need to be addressed and clarified. Moreover, be precise and complete while giving them the details of your specific needs.
Ask for quotes and minimum order quantities. You can only keep going if the prices are within your budget.
If the prices are fulfils your expectations then ask for samples. If the quality surpasses your expectations, then go for further talk.
Please note- the prices of samples are usually five times higher compared to the retail price.
Ask about the delivery and shipment?
It's always good to know who is handling the delivery or shipment of your products. It's not really a serious problem if your supplier doesn't handle the shipping process. However, you'll have to ask them if they can recommend any shipping company or the ones who can handle all the complex laws and customs.
How does the company handle delays?
Any good manufacturer will always find ways to prevent any delays in the production and delivery process. Moreover they will notify you in advance. You will get proof of this in the testimonials or reviews.
What are the payment terms?
Generally, almost all factories require 30% to 50% money in upfront / advance as down payment before production. In most cases, you should pay 100% before shipping. If the factory asks you 100% advance then it's a BIG NO.
Ask about warranty?
Ask them what their terms are in case the products you will receive have some defects, either on the materials, function, or workmanship.
Conclusion
Finding good product and manufacturers online is not an easy task as millions of companies around the world enlisting their products in different search engines through different modes such as –websites, portals etc. Moreover, manufacturing is a continuous process, and you need to be spot on to find the one who is offering latest development with high quality at right price. Doing so will help you save both the production time and costs. Hopefully, this post will help you to find tempered glass screen protector for your business. If you have further questions, please ask MPG and we will help you to know more.