Which is better for your Smartphone  -ceramic film or tempered film?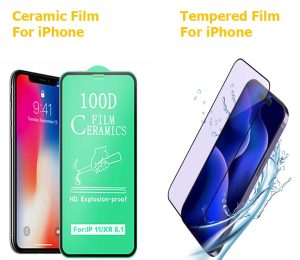 Smartphone  -ceramic film or tempered film
Basic Information
Your smartphone needs the best possible care and to maintain a better-looking Smartphone and safeguard its original glass screen you need something special.
A discussion and debate are going on regarding the best ways to protect your smartphone and people are constantly arguing over whether the ceramic film is better or tempered film.
In this article, we are going to discuss this.
There is a common belief that ceramic film is better than tempered film let's find out why?
1, Material Matters a Lot: Ceramic Film
Click Here To Watch the Ceramic Film Video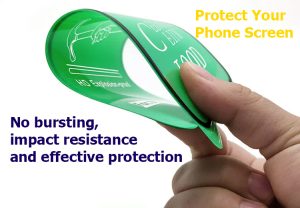 What is Ceramic film?
This Ceramic film can be a game changer in the market of screen protectors as is made from a ceramic material which is a thin layer of ceramic that is applied to the surface of the device's screen. It is designed to protect the screen of electronic devices from scratches, cracks, and other types of damage. Known for their strength and durability Ceramic screen protectors are made from a thin layer of ceramic that is applied to the surface of the device's screen to protect the screen from scratches and cracks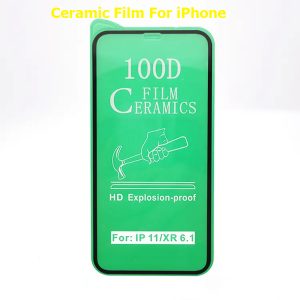 One report and several tests after that point toward the fact that ceramic film is way better than tempered film.
Let's take a look at the good points:
a) Some say, it's 10 times better than tempered film as it is not easy to crack.
b)It has a better aesthetic level, fits well
c ) Ceramic is scratch resistant
d) Air bubbles don't form easily like hydraulic membrane
e) Anti-pollution which assures a better environment-friendly world
f) Easy to clean
g) Most ceramic films are visually more transparent
h) it is more water resistant
I) it does not develop white edges like a tempered film which means the appearance will be fine
j) it fits better and tightly
k) It is not expensive
l) Heat insulation is better too
m)It also bears good chemical corrosion resistance
n) high mechanical strength, and strong antimicrobial ability There are one or two bad things too
a) Production process of mobile phone ceramic film is a bit more complicated.
b) Ceramic film doesn't have the facility of anti-blue light, linear looks, etc.
c) Cost is a bit high compared to tempered film
d) Aesthetic wise it may not look good
e) It also has high brittleness and low elasticity of inorganic materials and may not look good alwaysPeople's latest choice?
These days, Ceramic screen protectors are often preferred by people who use their devices frequently or who are concerned about the longevity of their device's screen despite this being more expensive than some other types of screen protectors. The overall perception is that this type of screen protector can offer excellent protection than other products so they want to ensure that the device's screen stays in good condition.
But it would always be better and more important to carefully research and compare different options to find the best option for your device.
Take on a Tempered Glass Screen Protector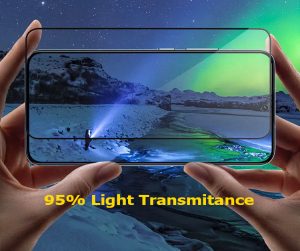 Click Here To Watch Tempered Film
Tempered glass screen protectors are made from a thin layer of tempered glass that is applied to the screen. Before, the arrival of ceramic screen protectors, tempered glass screen protectors as it offers excellent protection against scratches, cracks, and impacts. This type of screen protector also offers different important features such as anti-blue, oleophobic coating, and many more. Moreover, a tempered glass screen protector can help to keep the screen looking new for a much longer period. However, if you always use your phone in a bad way and put it under extreme conditions then it may be more prone to cracking or breaking and they may be more expensive than some other types of screen protectors.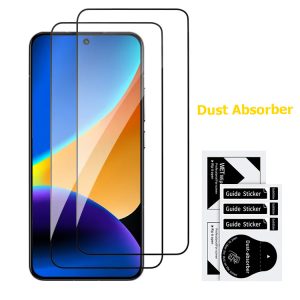 Now there is a new material such as ceramic film available in the market the scope for argument has increased and the topic is – which is better – Ceramic or Tempered film.
Let's take a look at the good sides of tempered film
a) Tempered film feels natural,
b) Due to its high hardness it's not easy to get scratched by sharp objects
c)cost is a bit less compared to the ceramic screen protector
d) There are different options and features available than the Ceramic screen protector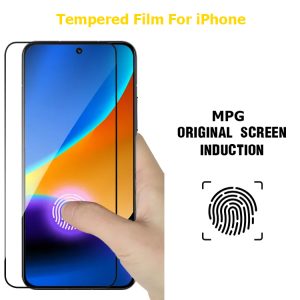 What to buy?
Buying decision depends on many factors including your choice, needs, amount of money you want to spend, etc. If your only concern is to protect your smartphone from scratches and cracks then a Ceramic screen protector can be a good alternative. But if you are not good at handling your smartphone and it often falls or slips or drops, then a tempered glass screen protector is a good option. Before you buy any screen protector, it is always good to do thorough research and select a screen protector that meets your needs and fits your device perfectly.
Also please visit our new product:
https://www.mobilephoneguard.com/premium-quality-screen-protec-for-google-pixel/