ESR replacement LCD screen assembly for iphone 6 6s 6p 7 7p 8 8p X with Full View Function easy to read on the sunglass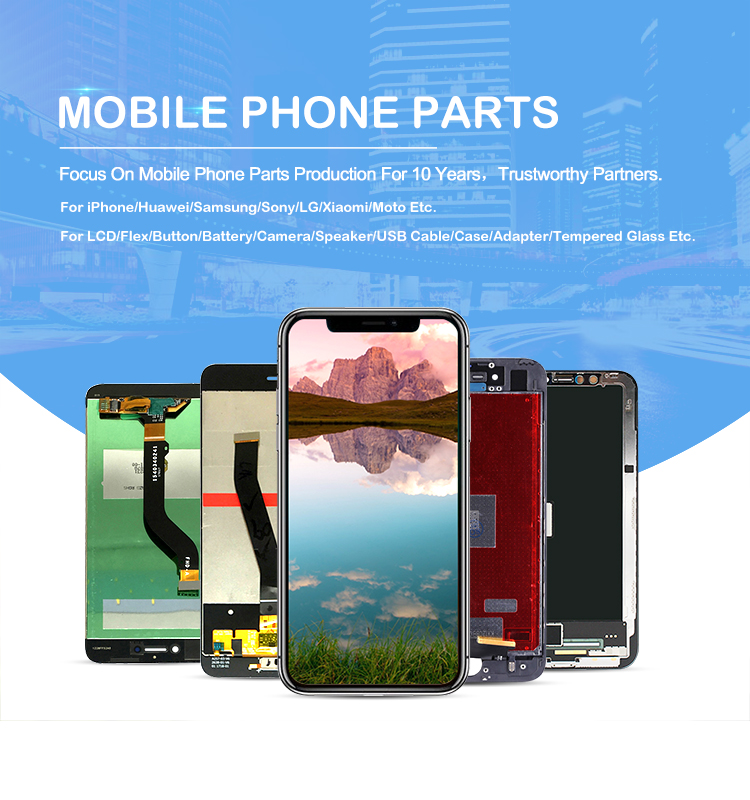 What's the difference between our LCD and the market LCD ?
Select "Start mesurement" and adjust your display's color temperature and / or RGB gain controls to match the desired white point. A good match is obtained if all bars can be brought to the marked position in the center.
Brightness & Color temperature Comparison
Turn on three phones with Other,OEM and Pro screens,Adjust all screens to maximum brightness,Obviously Us is much better than Other,both on brightness and color temperature.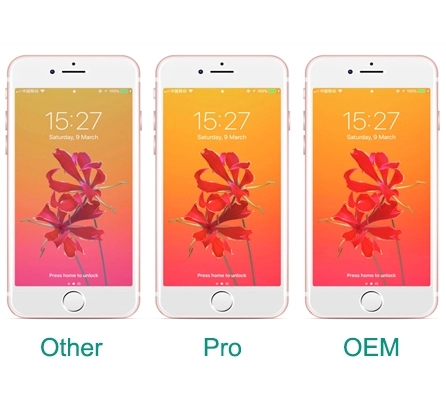 For iPhone LCD Screen
– Highlight ESR Backlight –
– Anti-fingerprint Oil Coating –
– Full Viewing Angle 360 Degree Visual –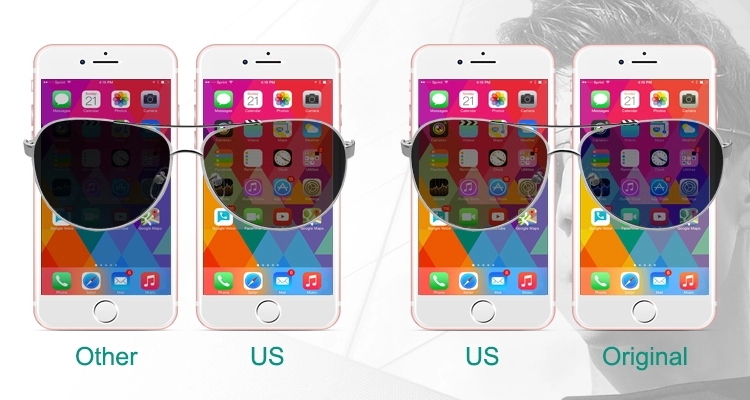 Polarizer Test Sunglasses
The test indicates that the Domobest LCD screen shows brilliant colors even when you see it through the sunglasses.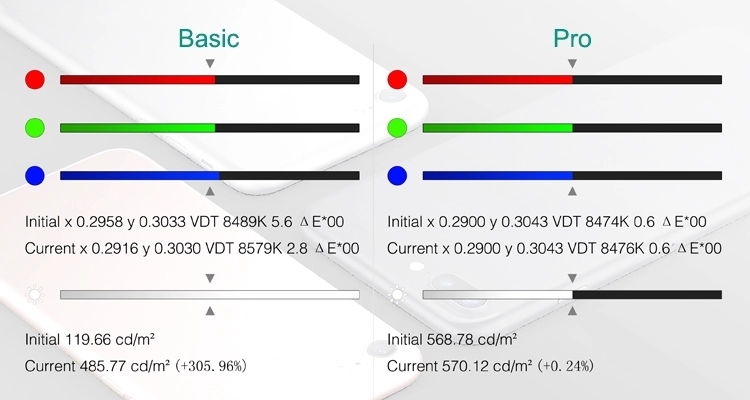 | | |
| --- | --- |
| Components | Front Glass + Touch Screen + LCD Display + Backlight + Frame. |
| Quality Control | Each product will be tested strictly One By One to make sure it can work in your hand before shipment. |
| Lead Time | 1-2 Days |
| Shipment | DHL, UPS, FedEx ,TNT, EMS, HongKong Post,China Post |
| Payment | T/T, Western Union, MoneyGram, Paypal, Cash |
| Warranty | 1 Year Warranty |
| 1 Year Warranty | With 8 years' experience, Newsky specializes in the mobile phone replacement spare parts business, mainly focuses on the world brand phones. |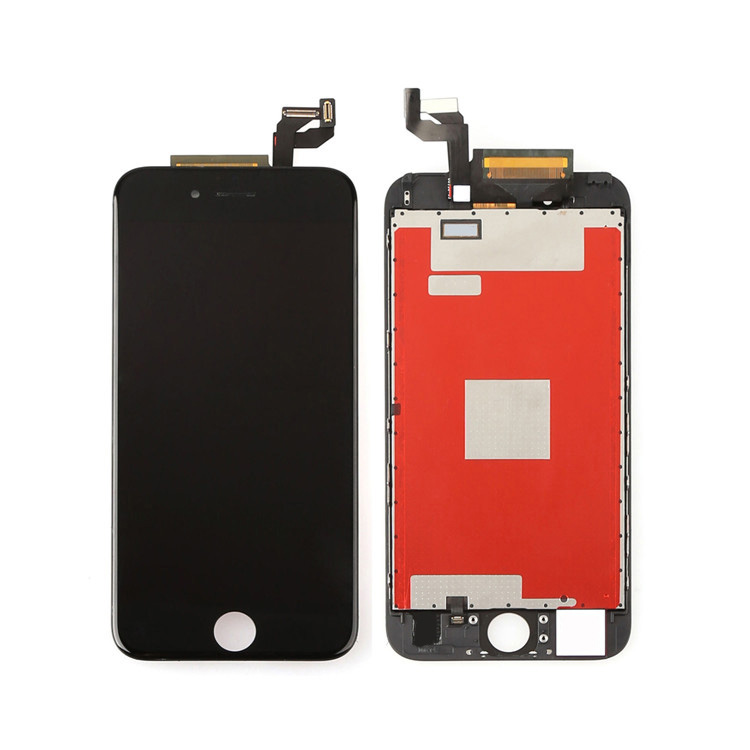 Key Specifications/Special Features: 
——————————————————————————————————————
——-
—————————————————————-
1. We offer 1 year warranty for our products.
2. Please fill the RMA form before you send it back.
3. RMA qty is more than 40pcs, please send it to our HK address.
4. We will test RMA LCD in 3 days and prepare in 2 days, it will only take 5 working days to ship the new out.
——————————————————————————————————————
——-
—————————————————————-
√
Touch problem, LCD can display, but touch stop often or can't move.
√
Flex loose and IC bonding problem.
√
Frame loose or come up.
√
LCD is thick and can't install or frame is too thick.
√
LCD back light problem.
√
Once you get the LCD, it is already broken.
——————————————————————————————————————
——-
—————————————————————-
We will check all brand LCD with the following checking steps.
1. Check the touch panel if there any scratches.
2. Check the gap between the touch panel and frame.
3. Check the frame with finger if it is strong enough.
4. Check the LCD and touch flex when we test to find if it is loose.
5. Check the touch function to make sure if it is very smooth on touch.
6. Check the LCD display to make sure no dots in the white screen and dots on the black screen.
7. Check the picture color of LCD to make sure it is similar to original picture color.
8. Put the camera holder and sensitive holder with UV lamp.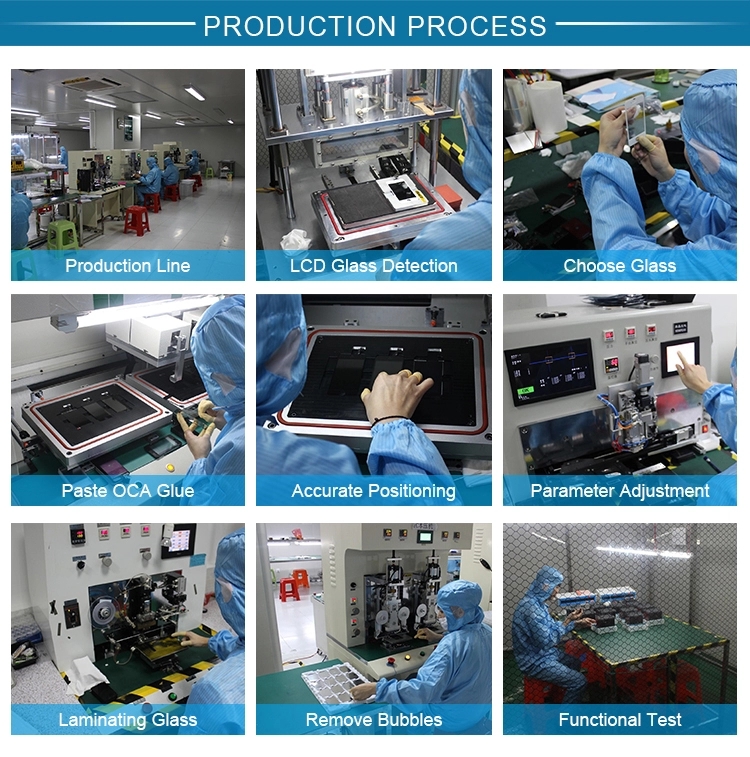 For 6G 6P 7G 7P 8G 8Plus After Market TFT LCD
| | | | | | |
| --- | --- | --- | --- | --- | --- |
| | | | Go Through Sunglasses From Different Angel | | |
| | | 1:1Touch,Baisc Touch | | | |
| | | 1:1Touch,Normall Oil Coating,Antifinger Print | | | |
| | | 1:1Touch,Normall Oil Coating,Antifinger Print | | | Excellecnt,Original Color Display |
For 6G 6P 7G 7P 8G 8Plus Original LCD Cell   (Incell structure)
| | | | | | |
| --- | --- | --- | --- | --- | --- |
| Grade | LCD CELL | Glass | Flex Cable | Frame | Condition |
| High Quality | Original | 1:1 Glass | CP Flex Cable | CP Flex Cable | New |
| OEM | Original | 1:1 Glass | Original | Original | New |
| Original Pulls | Original | Original | Original | Original | 99% New |
| Original NEW | Original | Original | Original | Original | Original NEW |