Excellent Product for your Samsung S10/ S10 plus/ S10 lite – Full Glue edge-to-edge cover tempered glass screen protector.
Tempered glass screen protector manufacturer from China now has another high-quality product from their factory and this time it's for Samsung Galaxy S10's different versions.
What you get-
This excellent product is made up from 0.3mm thick tempered glass and covers all the edges of your phone's curved screen. This product is exclusive of tempered glass screen protector factory of MPG.
This product is crafted from heat-bent design technology, which enables the underside of the screen protector to sits flat and smooth on the screen.
Moreover, it matches the contours of your phone's screen perfectly offering a complete protection of your phone.
———————————
Shock Protection Enhanced by Multi-folds – Courtesy High-Tension 9H Tempered Glass Construction
Time to upgrade your phone's protection with newly improved shock protector MPG tempered glass screen protector.
What You Get
Made from a reinforced tempered glass with an impressive 9H rating makes it more powerful protector
Maintain clarity of image crystal clear while protecting your phone from scratches and external shock
Surface hardness and 0.3mm thickness makes it ready for daily rough usages.
This screen protector maintains phone's superb visual qualities.
———————————
Highly Enhanced Shock Protection with High-tension Tempered glass
The latest technology empowers this full cover screen protector with special ability to guard the entire screen from all kinds of scratches and external shock.
Reinforced tempered glass as main material gives this product a special durability and strength
————————————————————
 Strong Presence with Hidden Appearance
MPG tempered glass protector safeguards your Smartphone from scratches and shocks yet one can barely notice the presence of it. In the wholesale tempered glass screen protector market this is the best product you can get.
Benefits Galore
It doesn't decrease the touch sensitivity
It maintains the clarity
Phone's running condition remain high
================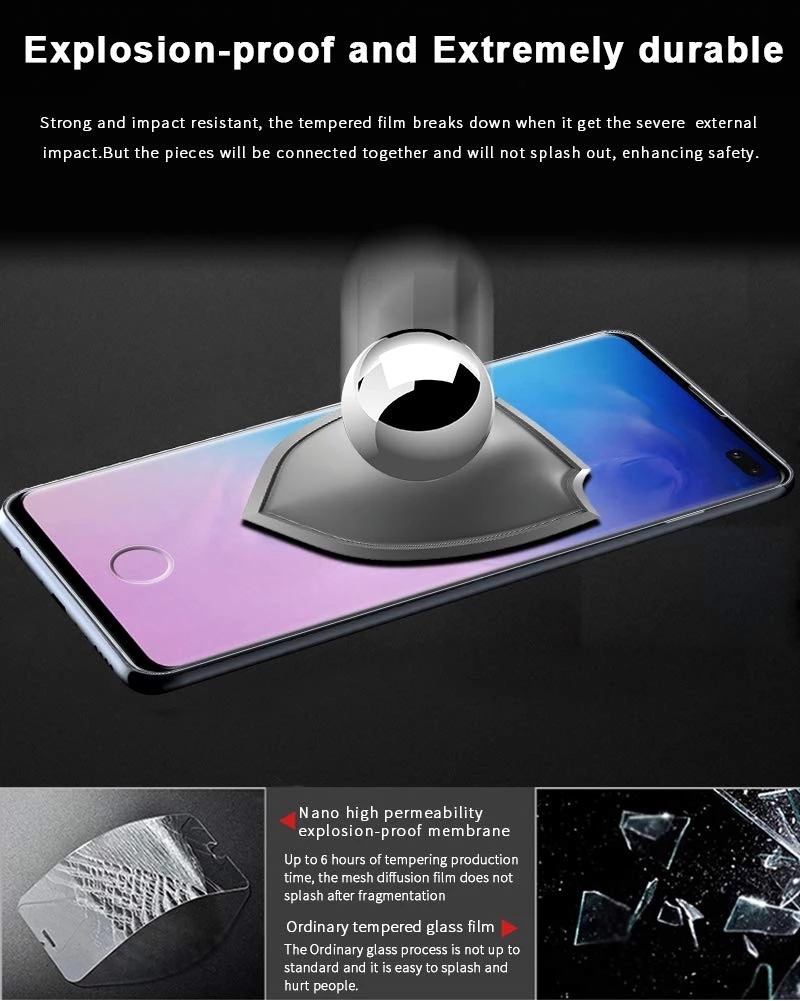 Product Description
3D Curved MPG Tempered Glass Protector
One of the best things that is coming out of tempered glass screen protector factory of China is 3D curved fully covered screen protector that. This product really has many benefits to its credit, let's look at them one-by-one:
This product provides best protection to 2.5D curved mobile as it completely cover the touch screen of your Smartphone by following the contours of your phone's touch screen perfectly while offering complete edge to edge protection.
Most important of the full covered screen protector is completely cover the touch screen, best way of protecting 2.5D curved mobile is to use 3D hot bending full cover.
MPG tempered glass screen protector is made by highly-skilled professional manufacturer by using hot blending 3D Curved glass technique.
The machines used in the making of MPG tempered glass screen protector are highly expensive and technologically advanced as the product concept is different.
Generally, wholesale tempered glass screen protector market of China is using so So-called 3D bending. In this technique tempered glass is made of plate glass heated to nearly glass transition temperature and cooled immediately and rapidly by liquid nitrogen, to give it the shape of 3D curved glass in the mold.
On the other hand, MPG tempered glass screen protector is a curved full cover tempered-glass screen protector. This is possible by shaping reinforced tempered-glass with an impressive 9H hardness, with hot bending technique.
This product maintains the image clarity while protecting your phone's screen from scratches and external shock.
========================
Why prefer full AB glue series over others?
Glue plays one of the important roles of protecting your Smartphone along with tempered glass screen protector and tempered glass screen protector manufacturer are well-aware of this fact. Bad glues can ruin everything and reduce the lifeline of screen protector as it may not attach with the screen of the mobile long enough. You can trust the game changer i.e. AB Glue as Full AB glue cover tempered glass screen protectors have characters: perfect laminated installation, no glue mark.
There are other glues like 3M Glue which are generally used to cover tempered glass screen protector.  At first, 3M Glue looks to have advantages like having better technology, apparently cost-effective and seemingly easy to install.  Some tempered glass screen protector suppliers in China may ask you to put faith on 3M just to sell their products which are not that good enough, we just ask you to read further more before you take the decision.
The list of Disadvantages of 3M Glue is long enough to overpower its few plus points. Let's have look at the disadvantages-
3M leaves glue marks after installation
Glue marks will lead the dust to go easily under the cover and make everything useless
Phone's borders remain unprotected
Glues in 3M somehow reduce the clarity of the image and the screen with the passing time.
Transparent 3D full cover tempered glass screen protector of with 3M glue can sometime get off the screen thus increasing the chance of misplaced screen protector. This means your mobile can become unprotected despite of having OEM screen protector.
So, beware of those tempered glass screen protector supplier from China who insists on taking their bad products which comes with 3M glue.
Product Details Snapshots
| | |
| --- | --- |
| | |
| Model | For Samsung Galaxy S10+ |
| Material of glass | AGC |
| Material of glue: | AB Glue |
| Material of AF coating: | Dakin |
| Hardness: | 9H |
| Light transmittance: |  92% |
| Anti-scratch: | more than 3000 times |
| Edge: | 3D curved |
| Colors: | black, transparent |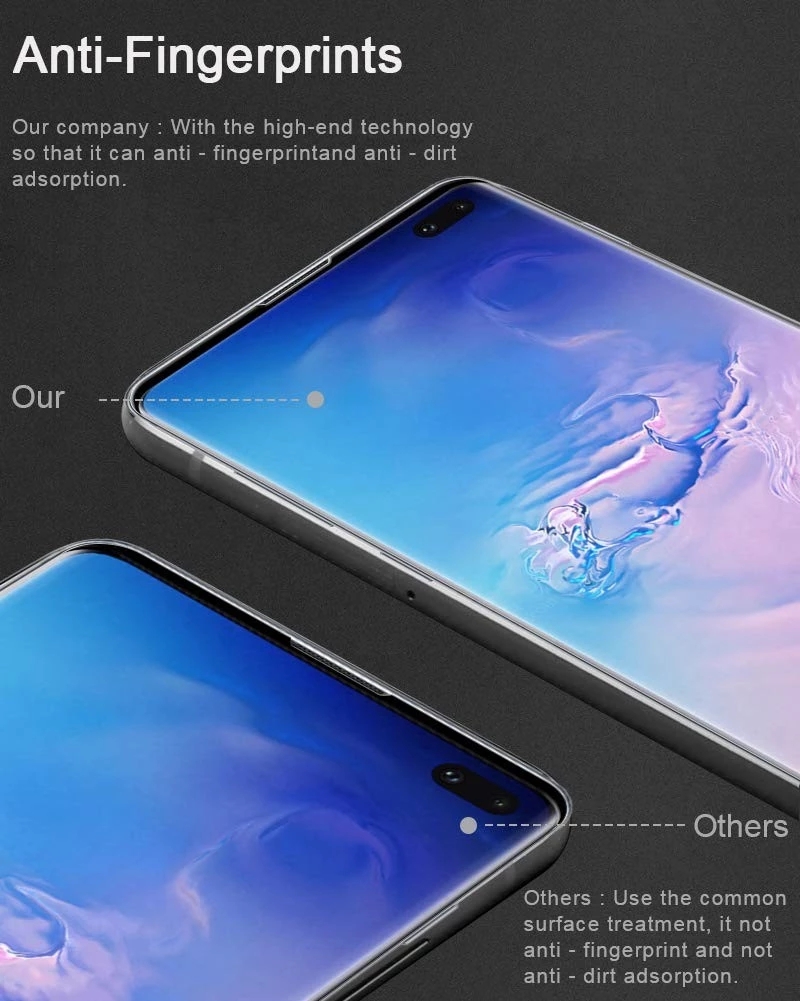 Features:
AB Glue perfectly makes up disadvantages of 3M glue in borders tempered glass screen protector to claim the top spot. Let's explore the advantages of AB Glue –
1. AB glue provides 100% lamination on screen leaving no gap between glass and screen.
it's the perfect solution for great touch sensitivity
3. It ensures that glass enjoys no risk of moving off screen.
AB Glue gives 360° edge to edge protection to your phone.
5. No glue mark or glue leftover on the screen thus saying goodbye to dust.
No bubbles: high-glass levelness because of the hot-bending technology, easy to install and no air-bubble troubles.
Natural protection: 3D glass has same curvature thus it protects your Smartphone naturally while allowing clear screen and smooth touch operation.
High-definition: Material used here is of topmost quality which allows high-light transmittance and low reflection, thus gifting you with a high-definition screen.
Safe: 9H tempered-glass and anti-boom film are the guarantor of enhanced safety and better user experience. Even if the protector somehow shatters or breaks, it will rupture into small pieces that are not sharp, making it safer than other glass-made products.
Delicate touch: strong glue stickiness allows easy installation and firm attachment with the surface without affecting the sensitivity of the mobile thus providing great touch sensitivity.
11. Basic features: 9H anti-scratch, anti-finger printer, touch smoother, no-delay responses, easy installation, tough and durable.
======================
Packaging and inserts
We can provide different styles packaging of English language neutral packaging for OEM screen protector  especially if you are ordering bulk tempered glass screen protector. We can as also pack the product as per customer's requirements for different screen protector installation kit . Moreover, if you want to brand your package with your own logo then we can help you in this matter too as we have experienced designer to carry out your task. You can call as the specialist in tempered glass packaging design.
===================
Our Services
Your inquiry related to our products or prices will be replied in 24hours.
We will help you to provide Tempered glass of all sizes of OEM / ODM according to design image or real device.
3. Tempered glasses of different functions like- anti-blue, privacy &. OEM / ODM will be available according to requirement of products.
Shipping: Via Sea, DHL, Fedex, TNT, EMS, UPS or HK Post. We will assess the volume and type of your order and as per your requirement; we will choose best shipping option/ courier for you.
Production Lead Time: 1-2 days for sample and small order, 3-7 days for bulk order.
Payment Method: T/T, Paypal, Western Union, etc.
===========================
Warranty & Return Policy
If you products are not as per your satisfaction or it does not work as per the instruction, We request you to keep the products and contact us with all the details, We will make sure that you get the product you are looking for and get your satisfaction back.
We will try and negotiate with Chinese customs and authorities If the goods detained by them. We will also negotiate with the shipping agent about the compensation and come out with a possible solution.3. We do not take responsibility of accidental losses and things that are not our control, such as – Products seized by or buckle off by overseas customs or anything happened outside the jurisdictions of China
The shipping and handling charge is not refundable. Customer should be responsible for all the charges of returning and reshipping. Our sales- team will work with you to solve any problems regarding these.
When the buyer receives the goods, please check the quality of the goods, and give us feedback within 48 hours! We will not take any responsibility of the loss or quality of the products once the said 48 hrs are over
>>>>>>>>>>>>>>>>>